Megan McArdle
is annoyed
by a woman attempting to market her assets. Doesn't McArdle know that what's good for marketing is good for America? Why does she hate American breasts?
I'm Too Sexy For This Bank
A friend passes along this link: Can you be too hot to be a banker? I think the real question is, "Can you be too arrogant to be a banker?" And I'm surprised to find that the answer is, apparently, "Yes".
Let's hope for his own sake that the friend wasn't P. Suderman, soon to be Mr. Megan McArdle. The woman banker's arrogance was over her looks. No word on people who arrogantly assume that just because a banker is one of the tribe, he is intelligent and ethical and won't gut the economy.
Perhaps McArdle's pique was pricked by her exclusion from the
Twenty Hottest Conservative Bloggers
, picked by these irresistible example of male conservative pulchritude:
Glenn Reynolds--Instapundit
Jonah Goldberg--National Review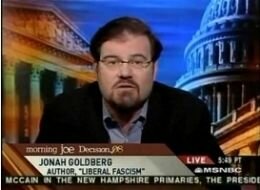 Andrew Malcolm--LA Times
Dan Gainor--Newsbusters
James Joyner--Outside The Beltway
Imagine the aggravation of being found wanting by
that
lot. But that's the price conservative women like McArdle have to pay for choosing to support the conservative elite. McArdle must
serve food barefoot to her male superiors
,
suck up to morons
, and watch her peers pour over pictures of younger and prettier women, which are plastered all over the internet so her friends know that by the standards of her tribe, she just don't measure up.